The Iliadadapted by Gareth Hinds; illus. by the adapterMiddle School, High School    Candlewick    264 pp.3/19    978-0-7636-8113-5    $27.99Paper ed.  978-0-7636-9663-4    $16.99As with his treatment of The Odyssey (rev. 11/10), Hinds offers an ambitious and compelling comics adaptation of a Homerian epic. This complex, winding tale picks up in the tenth year...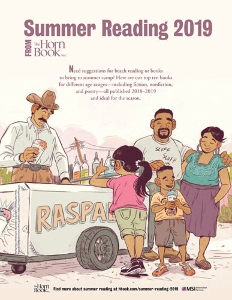 Need suggestions for beach reading or books to bring to summer camp? Here are some of our top books for different age ranges, all ideal for the season. For the complete list of reviews, click here. ...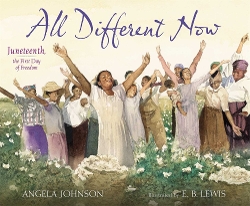 Today is Juneteenth, a day of celebration for many African Americans, who commemorate June 19th, 1865, the date slaves in Texas finally learned of their emancipation. To view the reviews for the three recommended books on the subject, please visit the Horn Book Guide Website...
To Night Owl from Dogfishby Holly Goldberg Sloan and Meg WolitzerIntermediate, Middle School    Dial/Dutton    311 pp.    g2/19    978-0-5255-5323-6    $17.99At the start of this epistolary (via email) novel, twelve-year-olds Bett Devlin, an adventure-loving California girl of African American and Brazilian descent, and Avery Bloom, a tightly wound New Yorker whose single...
Helloby Fiona Woodcock; illus. by the authorPreschool    Greenwillow    40 pp.5/19    978-0-06-264456-6    $17.99In Look (rev. 7/18), Woodcock strung together a series of words with double os, more or less one per page, to tell a story of a brother and sister visiting the zoo. In this companion, double ls get the...
Dissenter on the Bench: Ruth Bader Ginsburg's Life & Workby Victoria OrtizMiddle School, High School    Clarion    184 pp.    g6/19    978-0-544-97364-0    $18.99e-book ed.  978-1-328-63990-5    $9.99Since her appointment to the Supreme Court in 1993, Ruth Bader Ginsburg has become a hero to many Americans for her progressive positions on cases involving free...
Laura Dean Keeps Breaking Up with Meby Mariko Tamaki; illus. by Rosemary Valero-O'ConnellHigh School    First Second/Roaring Brook    298 pp.5/19    978-1-250-31284-6    $24.99Paper ed.  978-1-62672-259-0    $17.99This relatable, heart-wrenching, and often funny graphic novel opens with seventeen-year-old Frederica ("Freddy") Riley's email to advice columnist Anna Vice. "For almost the past year I've been...
Ogilvyby Deborah Underwood; illus. by T. L. McBethPreschool, Primary    Godwin/Holt    40 pp.5/19    978-1-250-15176-6    $17.99Ogilvy, a wide-eyed, line-drawn bunny, is excited to make friends in a new town. But upon arrival, the rabbit's sartorial choices are challenged; Ogilvy, clad in a knit article of clothing, is asked: "Is it a sweater...
1,066 articles